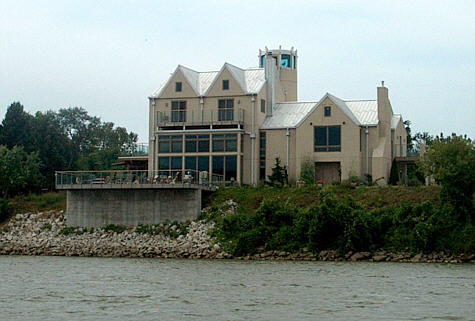 The Missouri presents some real challenges when it comes to anchorages. I have to admit I am not very adventurous with this boating procedure. When I close my eyes for the night I want no doubt of Therapy's security. My nightmare is to be blissfully asleep while dragging the anchor and ending up on the rocks or worst – in front of a tow. Because of this, for me anywhere near the main channel is out because of the high current. I don't care how solid my anchor may catch - it just to dangerous.
On the Missouri there are numerous chutes and sloughs that look inviting but there too the current is usually strong. Usually another viable option is to swing in behind one of the wing dikes. There the current is neutralized and often offers a safe harbor. But here on the upper Missouri every time I attempted this I found them silted in and inaccessible.
The only comfortable reprieve from the current I could find was in the mouth of creeks. There is not an abundance of these so each evening they became my quest. The chart showed Boyer Creek at the 635 MM and it looked promising. It was far enough away to escape the noise from the city and airport but still close enough to reach before dark. Boyer Creek it was for my first night on the water. I pulled in just far enough to escape the flow but still have a nice view of the Missouri.
As much as I take pleasure in spending the day cruising, this is the part of the trip I look forward to the most. With Therapy secure and the light fading I sit and soaking in the serenity of setting. I watched two young deer next to the water line not more than 30 feet away. Occasionally they would stare in my direction but then seemingly decide to ignore my intrusion and continue feeding on the lush grass. All the while the Missouri continues to hurriedly stream by swirling and slightly rolling but remaining silent to allow the other sounds of nature soothe all that take the time to enjoy the moment. To me, this is heaven.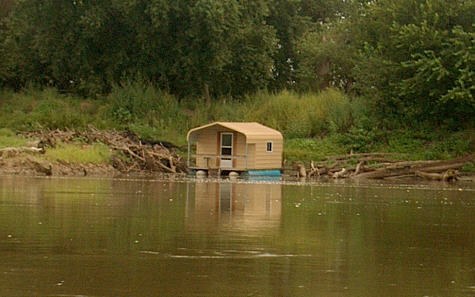 I finally decide to climb in the berth and settled in to watch a movie on my portable DVD player. About 11PM I call it a night and sleep came quickly. But about 3AM I am awaken by the sounds of small waves slapping Therapy's bow. Obviously the wind had picked up and in my semi-conscience state seemed to occasionally see flashes of light. Finally my brain was hitting on enough cylinders that I realized it was lightning and decided I would crawl out and take a look.
As I looked out over Therapy's bow I could see what looked like a small thunderstorm. Because of the wind direction I was fairly confident it was approaching so I decided to check the anchors (I had one of the bow and one off the stern to hold my position in the narrow creek). There was no problem, as they appeared to be holding firm. As I stood in the darkness I scanned the horizon and in the distance spotted two more small but totally separate thunderstorms spitting out sporadic lightning. I can't say that I had ever seen this before – three different storms working the night sky. It may indeed not be that unusual but still I had never witnessed it before. Interesting.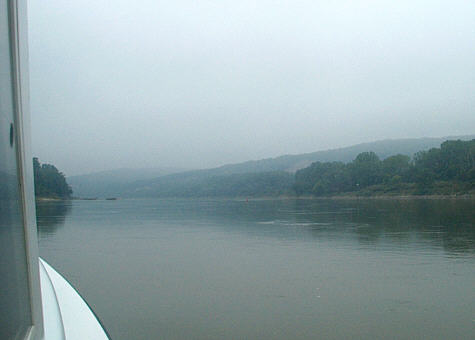 Which brings up another trait of the upper Missouri River in this region. One of the reasons I could see the three different storms in the distance is that the terrain is very flat and offers an unobscured view. In fact, it is rare that the horizon is high enough to be seen over the tree-lined banks. This may be another reason the Missouri is not near the top of my river list. When cruising it often your whole world is between the shores. No bluffs or hills. No distant Smoky Mountains with homes with commanding views perched high over the river - just mile after mile of rock dikes and trees. Not that it is unattractive, just that it, well, it tends to get monotonous after a while.
When morning came I was feeling a little lazy and got off to a late start. About 11:30AM I was approaching Decatur, NE at the 691 MM. There is a marina located there but typically it wouldn't open until 5PM. As I was passing I notices a riverside park with a ramp and small dock. My cooler was once again mostly liquid filled so I decided to pull in and see what I could find. Again, I didn't have a good deal confidence in finding much. The population of Decatur was listed as 641 and showed no "points of interest".
I walked up and found a small attractive municipal park with a walking path, benches, picnic tables and campground all overlooking the river. As I strolled towards town I came upon a city employee in a pickup truck and inquired about places to eat. He replied that there are three restaurants and added that he was just heading home for lunch and would give me a ride.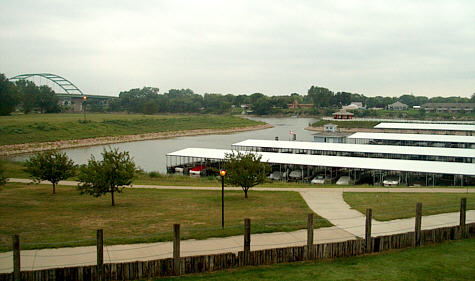 On the way to the business district I noted that Decatur was a small town but a surprising robust small town. Besides the three restaurants there were two banks, a hardware store, a convenience store and probably more that I didn't notice or can't remember. I stopped for a burger (I've had better) and then grabbed a bag of ice from the convenience store and walked back seven or eight blocks to the boat. Still I was impressed – not bad for a village of 461 residents.
From there Sioux City, IA was a short 41 miles – about two hours. There at the 732 MM is MirTym Marina. It is the largest and nicest and facility I had found on this trip and I decided to stop in and double check the closing time. The dockhand confirmed they would be there until 8PM. I need to mention that MirTym was the only marina that I found that has normal hours – Sunday to Thursday - 10 to 8. On Friday and Saturday – 10 to 10. They also have a restaurant that opens at 11AM, always a good sign. (Photo above is entrance to MirTym Marina.)
Since it was only around 4PM I decided I would complete the run to the end of the navigation channel at the 754 MM and then return for fuel for both Therapy and myself. It only took a mile or so to realize that upstream of Sioux City the Missouri has a different feel. Gone are the daymarks that help guide your way with only the mile markers remaining. Also, the river is much wider and shallower making the channel more difficult to locate. Still, I pushed onward following its winding path.