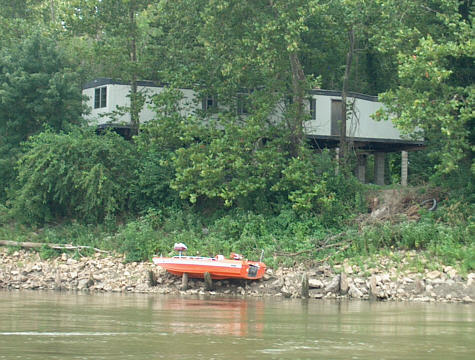 But not everyone in Rulo was hesitant about outsiders. On the walk back carrying the two small bags of ice I was befriended by the largest Great Dane I have ever seen. He happily followed me back to the boat and watched from the dock as I started to drain the cooler overboard. I guess he became impatient about not being asked aboard and made the decision to assume an invitation.
Because of the high current Therapy was secured to the dock with a good bit of slack line to allow her to move about without undue stress. The boat rocked unexpectedly and I turned to see this very large canine (I am sure he out weighed me) with front paws on the sole and hind paws on the dock. But his weight was gradually moving Therapy away. In slow motion he spread eagled between the two until something had to give and his rear legs hit the water. After a few seconds of thrashing and splashing about the intruder finally managed to get all four onboard and immediately began to investigate my now very crowded watercraft. I tried to take his collar and direct him back to the dock but my efforts were futile, as he obviously hadn't yet completed his exploration. After a few minutes I guess his curiosity was satisfied and he casually departed and meandered up the path. And to think my GPS showed no points of interest. Rulo was interesting indeed!
Trudging my way upstream at 20 MPH Bellevue, NE was my next scheduled stop. The Bellevue Marina was my first planned refueling and their hours of operation on weekdays were 4PM to 8PM – usually. They had confirmed the hours on my pre-departure calls but added, "On slow days we sometimes close early."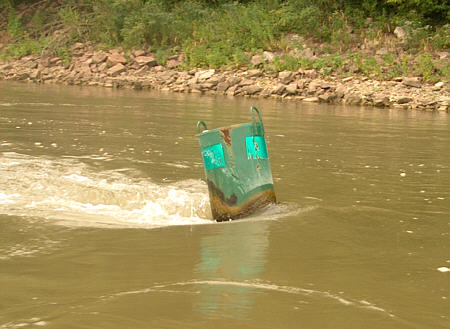 My ETA to Bellevue was about 6:30PM and I really need to get fuel there. If they weren't open the next fuel was 16 miles away but they closed at 7PM – couldn't make it in time. Or 27 miles upstream was N.P. Dodge Park Marina that was scheduled to be open until 8PM. But if they closed a little early……… Actually, even the following fuel stop at the 691 MM was within my range but they wouldn't open until 5PM the next day. I would easily arrive there by noon and then have to wait for five hours! (Photo below gives and idea of the Missouri's current).
I decided to try to call Bellevue on my cell phone but could get no answer. Decision time. If I stopped there and fooled around too long trying unsuccessfully to get fuel I might run late getting to Dodge Park. Hmmm Life on the Missouri River can be complicated. I decided to take the chance. Making the stop proved my concern was unnecessary. The dock attendant was on duty and I topped the tank. By the way, I had reached the marina and still had a little less than 2 gallons in my main tanks. My calculations proved accurate and I could have made the trip without the portable. Still, peace of mind has value.
With the Honda outboard fed it now time to consider myself. At the 616.4 MM in downtown Omaha, NE is located Riverfront Marina. This is a very nice city run facility in a small protected harbor. Although there are no services it is located next door to a nice restaurant. I idled in the empty marina and secured Therapy with thoughts that would repulse vegans worldwide.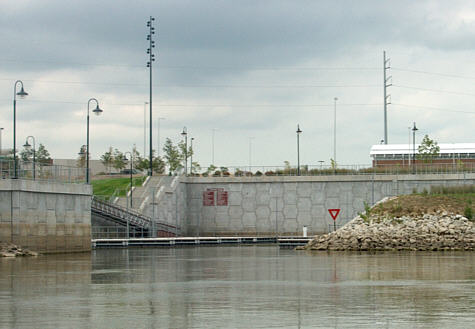 I knew because of the late hour it would be dark by the time I finished my meal and I decided the best plan would be to just stay here for the night. For me this really wasn't the ideal anchorage. It was the center of a large city with an interstate highway bridge nearby. The rumbling sounds of tractor-trailers would surely continue 24 hours a day. Plus, the airport was just 3 miles away with landing and take-offs probably ongoing throughout the night. But still, the urge for medium rare Angus was strong.
At the end of the dock was a sign with the posted rules and I stopped to see how the facility functioned. On weekdays before 4PM docking was free – that's good. After 4PM there is a $5 per hour charge – OK, I can live with that. But then there was the kicker. Overnight stays were charged a flat $50 – no consideration for length of the craft or services needed (there was shore power on some slips). I read it a second time. Yep, it was going to cost me $50 to moor my 18-foot boat for the night using none of their services.
I certainly didn't want to be searching for a suitable anchorage in the dark. But as much as I wanted to eat a nice meal I just couldn't bring myself to donate $50 to the city of Omaha for the privilege. I decided to once again dine on lunchmeat and coleslaw from the cooler and continue on upstream in search of a place to drop anchor for the night.