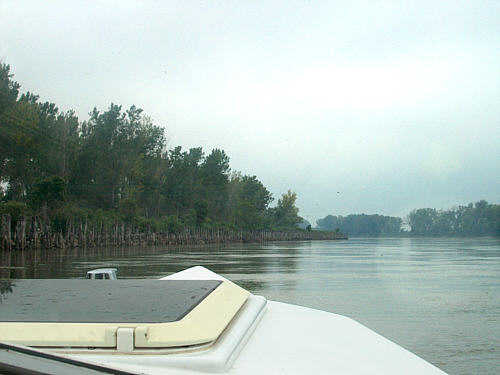 There is an intruder on my boat! I felt Therapy suddenly rock, I turned and there he was onboard. I tried to convince him to leave but he gently nudged me aside, ignoring my suggestions and continued rummage through anything that caught his eye. Now what? He seemed harmless but then again…..
But I'm getting ahead of myself. I first need to explain a few details of my latest river outing. The upper Missouri River had been on my mind for a while. Previously, on two separate trips, I had made my way from the mouth near St. Louis, MO to Atchison, KS at the 423-mile marker. The end of the maintained channel is past Sioux City, IA at the 754 MM just acrossed the South Dakota state line. Earlier in the year I had aborted this run because of unfavorable weather but now I was ready to complete the remaining round trip of 662 miles.
I have to add that the Missouri is not my favorite river. With its high current and abundant rock dikes, some protruding to mid channel, it tends to demand more attention than any other river I have traveled. And I guess that is part of the rub. Normally, when I am out wandering the water a good part of the appeal is being allowed to my mind roam. Therapy is not exactly the Space Shuttle and its simplicity is normally very tolerant my inattention. But on the Missouri River that same inattention can lead to shorting of the lower unit by about 24 inches and possibly much worse (see my So. of St. Louis to Nashville story). Still it was unexplored water - a river yet conquered. Reason enough to brave the course, even when equipped with an undisciplined mind.
I completed my normal pre-trip planning - two GPS units programmed, charts on hand, yada, yada, yada. But there is a new item added to my checklist – locate a "reasonably" secure parking place for my truck and trailer. Since my New Orleans trip and the $1200 break-in damage to my truck I have become a little paranoid. I had found on the web that Atchison, KS had a newly developed riverfront featuring a park and nice dock. I called their city hall and inquired about their ramp and parking facilities. A very kind woman answered the phone and explained that they had a nice lighted parking lot that the police regularly patrolled. She said although there were no guarantees there had been no problems. Sounded good.
The seven hour drive brought me to the waterfront at about 10 PM and rather than trying to launch in the dark into the high current I decided to bed down in the parking lot. Morning brought clouds and cool temperatures, which was a welcome change from the oppressive heat, sun and rainless skies that had hovered over the Midwest for weeks. Gazing out over the river confirmed the ever-present current but sliding Therapy off the trailer and easing up to the dock was uneventful.
With the truck parked and locked in a very visible spot Therapy and I headed upstream. You certainly won't mistake the Missouri for a canal as it constantly winds it way through the countryside. It brings a smile to my face - it was good to be on the water again! (Photo - A section of Atchison Riverfornt Park)
Current and dikes aside, the Missouri still offers some additional challenges. The first of those is fuel. My 2004 addition of Quimby's Cruising Guide states that "From St. Joseph, through the Omaha-Council Bluffs area, to Sioux City, marinas are plentiful." Well, yea, maybe! One needs to realize that the Missouri is not heavily use by pleasure craft (or commerical for that matter). Sure, near the metropolitan areas there is a decent representation of recreational boats but nowhere near the levels that you find at many Midwest river cities. And on this 330-mile stretch they're only to cities of any major size – Omaha and Sioux City, so trying to survive in the marina business on the Missouri is tough.
Before departure the only safe procedure is to phone every marina that you think you might need and confirm their existence and hours of operation. The first marina/fuel along my route that Quimby's listed was out of business. If it was in operation fuel was not a concern but since it was not it meant I would have to cover 178 miles before I could fill the tanks. Normally this is well within my range of 230 miles (max – no reserve) but then there is the current. Under normal conditions on the Missouri it can easily flow between 3 and 4.5 MPH so this must be factored in. Figuring 4 MPH current cuts my maximum range to 192 miles. That means if all goes as planned I would only have a gallon and a half onboard when I arrive! Way to close in this situation so I had opted to include my 13-gallon portable, which would add another 100+ miles to the range.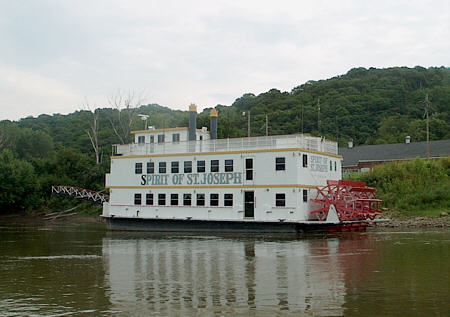 To my surprise there was another twist to the fuel problem – hours of operation. My calls confirmed that many of the marinas were closed on Mondays. Also, on weekdays all but one I contacted was not open until 3 PM or 4 PM. It appeared that during the week business was too slow to justify the manpower until the late afternoon. So timing fuel fills is also a concern. The most up to date information I could find about fuel on the Missouri River was THIS SITE but even that was not 100% accurate. Call ahead!!
Not long into the trip I realized I had forgot to add ice to the small poorly insulated cooler I had brought along to store the cold cuts and drinks. I have a higher quality ice chest but it is large and tends to crowd things aft when I have the 13-gallon portable onboard. I would most likely live on its contents for the next 4 days since I wasn't confident about available eateries on the Missouri. Because of this, keeping things cold were a concern.
At the 498 MM I came upon Rulo, Nebraska, which has a ramp with a small floating dock. A quick browse with my Lowrance GlobalMap 3200 GPS yields no "points of interest". This certainly isn't to say it is an uninteresting town but as with many small villages the GPS's database of restaurants, business, etc. showed no listings. A nice feature on my older Megellan Map330 handheld GPS is that it shows the population of the towns which sometimes is an indicator of possible services. I checked and it showed Rulo to have 191 souls in residence – not encouraging. Nonetheless I decided to give it a try. I had been at the helm for three and a half hours and a little stretch would feel good.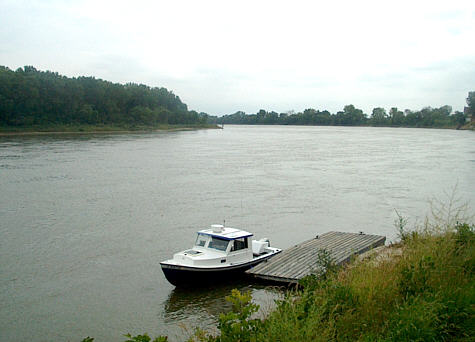 Near the ramp was the Rulo Boat Club building and it appeared to have a restaurant. I may have been able to get ice there but decided to continue on my walk to see what this burg had to offer. I wandered about a quarter mile farther and ran into a small local drinking establishment with a bagged ice cooler sitting outside. Looked promising.
As I walked in the door the 10 or 12 patrons all stopped mid swallow and sentence to stare at the stranger invading their domain. I had an over powering urge to find a mirror for I was sure I must have grown a second head in order to command the stares and silence I was experiencing. I meekly asked the proprietor about the availability of ice and received an affirmative response. Once done, it seem all was satisfied I was not suicide bomber or such and normal activity resumed. Sure felt strange though. (Photo - Therapy at small dock at Rulo).