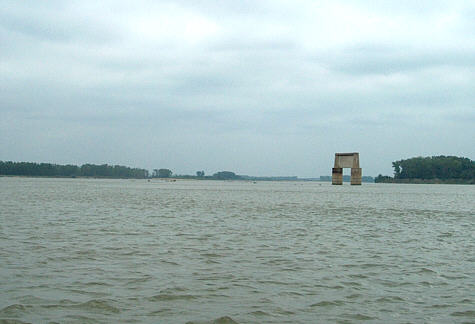 (Photo - End of navigation Channel)
As I approach the 752 MM I had the boat ramp at Ponca State Park – the end of my upstream journey – in sight. It was then I realized that the lack of navigation aids along this section of river really wasn't a problem. It seems in the past two days of travel I have come to understand the Missouri and actually grown comfortable with its navigation. I find that even though I catch my mind wandering, I am almost instinctively following the prescribed course and find myself located in the proper posistion. As if it has somehow allowed me to come in tune with its nature – to subconsciously allow me to understand its idiosyncrasies and automatically adjust to accommodate them while freeing my mind to – WHAM – DRAG – DRAG – scrrrrape!!!!
!?*!!*#! Yea, I hit bottom – dragged the lower unit - hard. I instinctively jerked back the throttle, hit the trim switch, turned the key to kill the engine AND then took a deep breath. Hadn't done this in a while. But I knew from the "feel" of the strike it was sand. Not rock, thankfully, and not hard clay but sand. (Which brings up a whole other subject. Do I consider it skill as a captain that I can tell the type of bottom by the way it feels during a prop/lower unit strike OR is it a lack of skill as a captain that has allowed me to hit bottom so many times that I can actually tell the difference?)
I trim the Honda up and timidly walk back to see what I have done this time. But once again the river has just scolded me for falsely believing I could truly understand her but inflicted no harsh punishment. Everything looked perfect although I am sure the healthy dose of sand ingested did not help the water pump impeller. But after I restarted the vigorous stream from the outboard informed me that at least for now all was well and the only real damage was to my ego and nerves.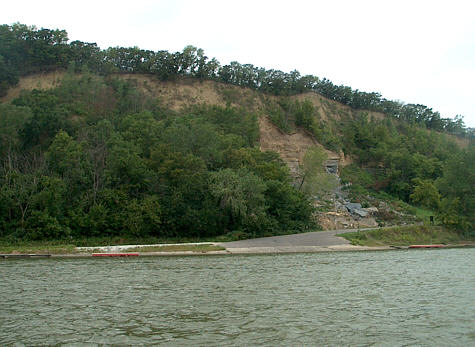 But now what? I was sitting in less than two feet of water looking at the end of my planned trip about a mile and a half away. Although the channel was not marked I was sure my "read" of the river was correct and I was where I should be. I tacked back and forth across the stream searching for deeper water but the depth sounder kept squawking its warning. After a few minutes I was ready to give up. I decided that from here the channel must not be maintained and the water had become too skinny for me to complete my desired route. Now disappointed, I allowed Therapy bow to swing around in the current (still strong) and prepared to drift a bit downstream and back into the safety of deeper water. (Photo - Boat ramp at Ponca State Park)
A few moments pass and as I was feeling sorry for myself my eyes ran across the chart. Yea, remember that bid paper thing sitting right in front of my face. Maybe I should actually take a look at it! And there was the answer. Although contrary to the normal course of things, just before the 752 MM the channel crosses and runs down the shore opposite to where the riprap has been placed. Even though a few stubs of hung trees were peeking above the surface, this was the deepest path and would allow me to reach the end of the line as planned. Cautiously, I made my way there and celebrated by popping the cap of a cold bottled water.
I savored the experience for a few minutes and then began my descent. The powerful unrelenting flow that had hindered me for two days was now hastening my return. It was good to see the GPS reading 27+ MPH instead of 21.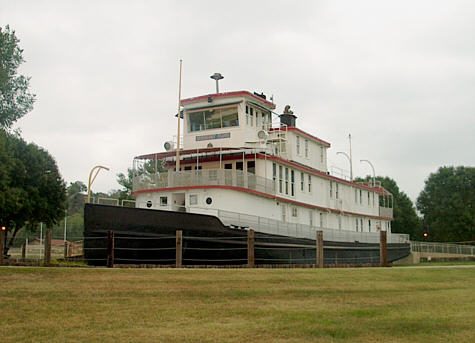 I made the run back to Sioux City and again turned into MirTym Marina. I decided rather than topping off all the tanks I would just fill the mains, which would easily allow me to make it back to Bellevue for my final fill. With the fuel concerns satisfied, it was time to find something to eat. The Marina dockhand directed me to an empty slip where I could use while I walked up to Jolly Rogers. Although a hotel with restaurant was under construction Jolly Rogers is a bar and grill that sits on the barrier that divides the river from the marina. It offered a great view of the river as well as a limited but decent menu.
After relaxing with a burger and browsing a boating magazine I decided to take a walk. Situated just behind the marina and sitting high and dry on shore was a retired Corps of Engineers work tow - the Sergeant Floyd. It was built in 1932 and used on the Missouri River as a survey and inspection boat. Today it serves as a tourism center and river museum. I would have liked to gone in and looked around but the hour was late and it was closed.
I decided before it became too late, it would be best to escape civilization and continue down stream to enjoy another tranquil night on the water. I had gone about 15 miles when for some reason my brain started working and I realized I made a dumb mistake when refueling. I had not filled the portable because the mains would easily allow me to reach Bellevue Marina. Had I run the numbers on my calculator it would have been obvious that with it filled I could have completed the trip without another fuel stop.
Normally an extra stop would not be a big deal but this is the Missouri. And as I mentioned before Bellevue Marina wouldn't be open until 4PM and I was easily going to be there by noon the next day. And now it was too late to go back as MirTym would be closed. I blew that one! Oh well, at least I then had a good excuse to be lazy and sleep late. Just before dark I idled into a narrow but recently dredged slough at the 711 MM. I sat and read until darkness forced a retreat to the berth where I fired up the DVD player and watched a movie.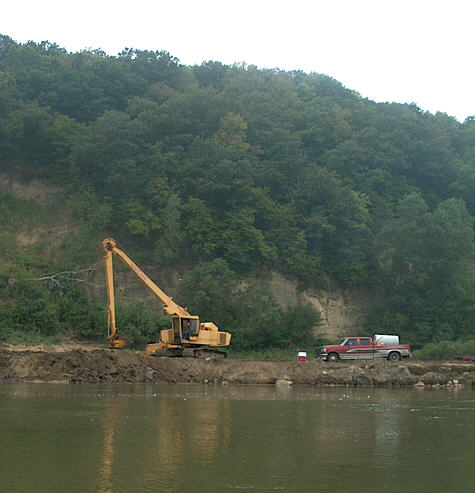 I didn't drag myself out of the berth until about 8:30 the next morning. I was standing brushing my teeth and looking out towards the river when I turned around and about 50 feet away was a guy standing by a pickup truck looking at me. I now had to gracefully spit and rinse with an audience. I guess it could have been worse – I didn't have on a shirt but at least I did have pants!
He explained the he was the foreman on a project just up river about a half mile were they were working dredging out sloughs and creeks. He added that the federal government was spending 70 million dollars in this area of the Missouri River to restore wildlife habitat. I hadn't mentioned it before but I had noticed in places they were moving a lot of dirt along the shores. He asked me if I was fishing. I replied no, and he explained we were actually on the Winnebago Indian Reservation and if I wanted to fish I would need to obtain a license from the tribe.
We talked a little more about the restoration project and he departed. I decided it was time to haul the anchors and leisurely head downstream. I killed a little time in the Omaha area and pulled in to Bellevue about 3:30 and waited for the attendant to open. I took on enough fuel to finish the trip and again idled out into the current.
At the 563 MM is Nebraska City and the GPS suggested that the population was 6547 and several eating establishments were showing as points of interest. There were no services but I decide to creep up in a small creek's mouth just enough far enough to escape the current. I then exited over the bow on to shore and walked up about 10 blocks to the center of town. There were three or four fast-food chains and not wanting another burger I decided on KFC.
On my way back to the boat I passed an ice-cream parlor but it had just closed. Probably for the best, all I needed was some more fat grams for the day. After each of these little "trips" it usually takes about 3 weeks to get my weight back were it was before I left – Yea, there is more than one way to have fun cruising!!!
My final night is spent at mile marker 542 in the mouth of Nishnabotna Creek. This is the first night that the sky was clear and overhead stars abound. I slept well even though a little remorseful knowing the tomorrow I would be winching Therapy back on the trailer and heading for home.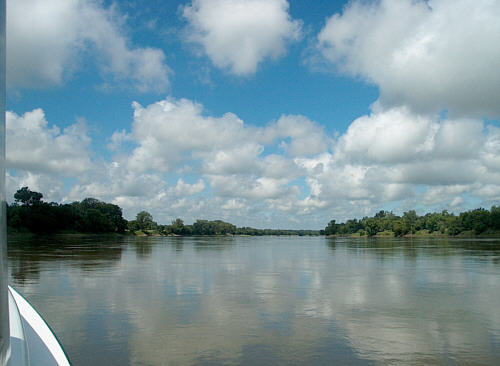 The next day the remaining ride back the ramp was uneventful and offered me the only sun I had on the entire trip. There is something about blue skies and white billowing clouds the always brings a smile. The way it reflects off the water. The way it brings out all of natures color. This is what boating is all about.
So another adventure is complete and the entry added to Threapy's log. As I have said before every river, although different, still has a certain charm. In the case of the Missouri River you just have to looker harder to find it. You must look past all the rock dikes and high current – but it is there. There just waiting to reward any boater that is willing to accept its challenges and navigate its course.