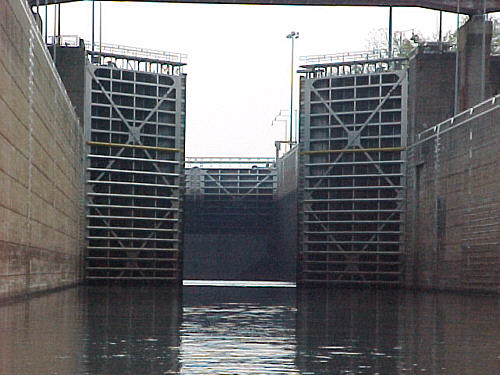 At Barkley Lock I again try the radio but to no avail. I locate the pull chain and yank it announcing my desire to lock through. The lockmaster appears on the wall in a 3-wheeled electric cart and waives to acknowledge my request. In a few minutes I am making the assent to the lake.
Lake Barkley and its conjoined sister, Kentucky Lake, are one of my wife and my favorite boating destinations. About a 3-hour tow from home, the lake's water is normally clear and even weekend boat traffic tends to be much less congested than our local rivers and lakes. We each have our leisure boating priorities and these two lakes satisfy both of us. I like idling through marinas, checking out the variation of craft and there are four or five nice facilities in the immediate upper lake area. Vickie likes cruising the shorelines looking at the many beautiful homes that grace the waters edge.
An added benefit is here are several restaurants either on the water or a short walk away. Buzzard Rock (MM 40) and Kuttawa (MM 42) and Prizer Point (MM 55) marinas have small restaurants with dockage and in my opinion Kuttawa has the best burger on the lake! At MM 59 (off channel and not on the chart) is the State Park Resort & Marina. Here is located a large lodge that offers a nice buffet as well as off the menu meals. They have a dock and welcome boaters but there is not a "no wake" area so secure your craft accordingly.
My wife's favorite is Miss Patti's found near the 32 MM in a small village called Grand River. Usually we enter Green Turtle Bay and use a courtesy dock and take a nice walk to the restaurant. I have been told you can call and they will send a car to the marina and drive you there but we normally prefer to get a little exercise to help burn off the horrible amount of food we eat there. This is a very popular eating establishment so weekend reservations are highly suggested. Casual dress if fine and the dessert are outstanding!
My favorite place to eat is Kuttawa ( they also have hard ice cream by the scoop) but today I am running a little early to stop and decide to continue on downstream to the State Park. There I top off my tanks and idle over to the lodge for an evening meal. Afterwards I decide to continue on south to cover a few more miles.
As nightfall approached I am searching for an anchorage. There are no marinas in this area and I want to get off the main channel as it is narrow and there is barge traffic. Therapy makes that much easier because it is small and draws little water. I usually look for decent size creeks I can idle into. Some I have used have been so narrow I couldn't turn around and have to back out but still serve well.
Using the chart I pick out a few that look promising but prove unusable. Finally at the 102 MM I find a tiny island I can hide behind and drop the hook. I take a moment and check the trip log on the GPS and realize that I have set a new personal mark for one-day travel. In the last 13 hours I had covered 280 miles including one lock and a fuel/food stop. Not bad but it will be nice to relax the rest of the evening.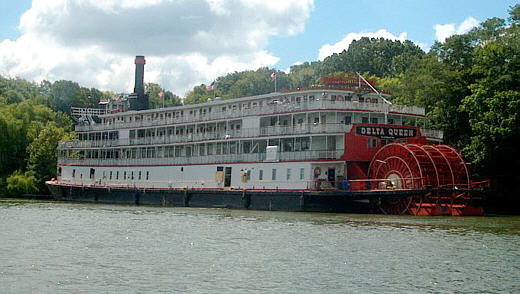 The next morning I sleep in a little late and it is about 8 AM before I fire up the Honda. Nearly an hour up the river at MM 126 is Clarksville, TN. Clarksville has a beautiful riverfront area. There are also several restaurants and other points of interest very nearby. The one thing it doesn't have is dockage. There are a couple ramps in the immediate area but no provisions on the rip-rapped shoreline to offer access. What a shame! Today there are river visitors as the large paddlewheel cruise boat the Delta Queen is anchored alongside. They use a long foot ramp off the bow to allow passengers to explore the town.
Nashville is now only about two and a half hours away not counting Cheatam Lock at the 148.5 MM. I am about four miles away when the water begins to roughen. I know what this means - there is an up bound tow ahead. DAMN! Last night before I anchored I had passed a heavily loaded tow (coal & sand) but assumed because they lumber on 24 hours a day he was already through the lock. But no - there he was. I passed him and reached for the radio and realized I forgot to turn it on this morning otherwise I would have heard his call. I contacted the lock but knew what the response would be.
The tow had already requested the lock and I would have to wait. But the really bad news was that it was a double and I was informed the wait would be at least FOUR HOURS! It is a little aggravating because it was still 35 minutes before the tow making 3 MPH reached the lock to BEGIN the lockage. But that's the rules and I knew it from the start. Nothing to do but move over out of the swift current near the lock and wait it out. I dragged out a book and settled back. It was 11:30 AM when I reached the lock.
At 4:30 PM I was exiting the chamber with my lockage complete. With Nashville now 41 miles away my ETA would be a little after 6 PM. Later than I had planned but the Big River Grille & Brewing Works would still open so I was happy.
Dockage at the city must be prearranged and the fee depends on boat length. The number to call is 615-862-8472 but over the years the vender that handles this for the city has varied so this may change. The main dock is a very nice floating structure with lights and shore power hookups. There is also a similar auxiliary dock on the other bank of the river that is used for overflow space.
My experience has taught me that there is one problem that blemishes this otherwise excellent facility. Although posted as a No Wake Area enforcement is none existent and unfortunately very, very few boaters in the area feel obligated to comply. These inconsiderate ingrates are usually in runabouts and make no attempt to spare the moored boats any grief. If you have a 40 ft trawler this isn't much of a problem but with Therapy it can be.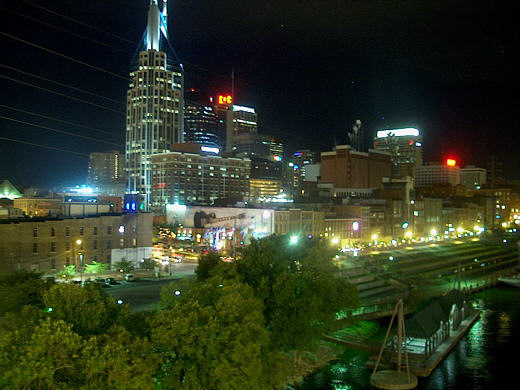 As I approach the dock I notice that there is space between two other boats that offers at little protection. A large bridge support sits about 25 ft out in the water from the dock. This will somewhat shelter me from the swells. As I ease up closer another boaters walks over and offers to take a line. He helps me secure Therapy and we strike up a conversation. AGAIN, it proves to be a small world as I find that he and another boating friend moored there live about 40 miles from me in DuQuoin, IL.
I exit the dock area, climb the stairway set off to once again explore Nashville, TN. At the top of the steps you find yourself in the downtown area. Make no mistake about it - this is a tourist area. Gift shops sporting T-shirts and souvenirs abound as well as restaurants and bars with live music. Struggling musicians work the street corners offering their heart and soul in song with their cowboy hats on the sidewalk waiting to be filled by kind admirers. Their dreams are to be the next Garth Brooks or Tim McGraw but today their goals are smaller and a dollar bill brings a smile and a nod of thanks. If you are a country music fan (not my favorite) I am told Nashville is a near religious experience but for me it is just an enjoyable stroll.
As I mentioned there are numerous restaurants in the downtown area. Hard Rock, Joe's Crab Shack and Hooters (if you like owls) are all represented as well as several fast food chains. Then there are eateries that sport the name of famous people like B. B. King's Restaurant. The biggest hit of the area is the Wildhorse Saloon and it is always packed. But my personal favorite is the Big River Grille & Brewing. The food is good and the Chocolate Ecstasy Cake dessert if off the chart. A must stop for my wife in Nashville or Chattanooga.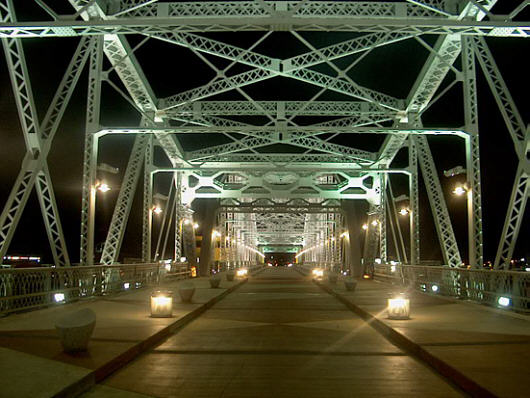 With a great meal behind me I set off to do some more exploring. When I had moored Therapy under the bridge I was puzzled that there was no noise from traffic. On my visits over the past several years I had noted the Shelby Street Bridge was closed and being refurbished but now it appeared complete. As I walked towards its end and saw an elevator and stairs leading to its deck I realized it was no longer used for vehicle traffic. It has been beautifully converted to pedestrian use and provides access across the river to Adelphia Coliseum home of the Titans football team. And even though it was a weeknight there were a number of people enjoying the cool breeze and unobstructed view of the downtown area.
About 11:30 I retired to Therapy's berth. Although I am in the middle of a downtown area the recessed area of the dock seemed to provide protection from the city noise so sleep came easy. About 1:30 am I was suddenly awakened by the sound of something hitting Therapy's topside. A moment passed and again it sounded like small gravel hitting. My groggy mind took a moment to decipher the sound but I realized it was a "gift" from above. I went back to sleep.