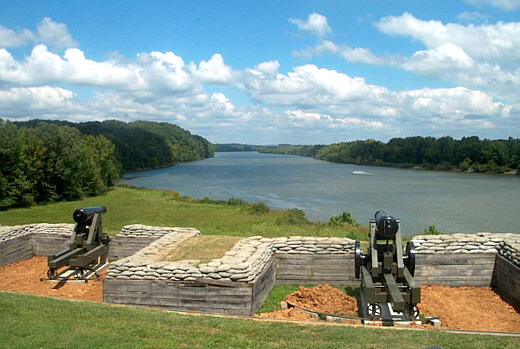 I was up at daybreak the next morning and it confirmed my suspicions. The top of Therapy was covered with brown liquid. Someone on the bridge had dumped a couple of soft drinks and the breeze had caused it to drift over for a direct hit. I used small bucket to dip water out of the river and rinse it off. Such are the trials of docking in the city.
The departure marked the beginning of my return trip. Cheatam Lock was handled with minimal delay and at mile marker 88 I decide to stop at Fort Donelson National Military Park. I have past this several times on my way to Nashville but never taken the time to go ashore. There are no docks available and the river banks near the fort are rip-rapped. A little upstream there is a fairly clear clay bank so I ease in. I had to walk thorough some tall weeds but find a fisherman's path and make my way up the hill to the park.
Fort Donelson was a Confederate artillery battery designed to defend against Union war ships coming up the Cumberland. The site offers a commanding view of the river and was an obvious choice location. There was a major battle fought there evolving both iron clad and wood armored Union vessels. I enjoyed learning more about river history
Mid afternoon found me back at Lake Barkley. I cruised some marinas checking out the boats and decided to have a Rudyburger for dinner at Kuttawa Harbor. I savor the sandwich sitting outside at a table on the dock watching the passing boat traffic. Not a bad way to enjoy a meal.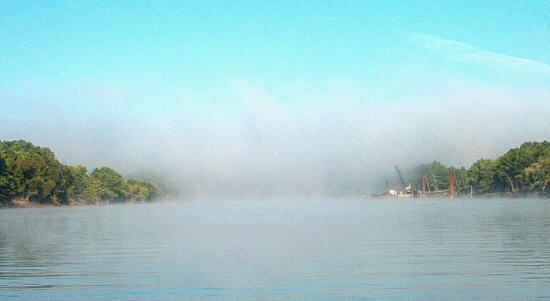 I decide to spend the night on the lake and lock through at daybreak. I am awaken a little before sunrise by fisherman on the shore talking and decide to get underway. When I crawl out of the berth I note a fairly heavy fog. I assess the situation and decide to go ahead and get through the lock and see what happens. It will take a while to accomplish this and maybe by that time it will lift. Yea, I was being optimistic! Positive thoughts! You know what I mean. In the back of my mind I knew the elevation on the river on the other side of the lock would be 50' less than the lake the fog would probably be worse. Yea, positive thoughts..........
So it was no surprise to see thick fog as the lower miter gates opened in the soft morning light. A tow was sitting there wanting to proceed downstream but held hostage by the poor visibility. I assessed the situation and decided to cautiously continue. My thought was rather than just sit there I could glide along about 5 or 6 mph hugging the starboard shore. I had to stay with in about 25' of the bank or it would disappear in the soup. Surely if there was anyone else out there coming upstream they would be doing the same, right?
I eased along hoping it would lift. Ten minutes turned into thirty and thirty to an hour. The conditions varied from bad to very bad. Suddenly out of the windshield I see a bass boat up on plane coming straight at me. My jaw drops! He spots me and cuts hard to his starboard and passes a few feet away. I was yet to catch my breath and I hear another one roaring by mid channel. I never saw it but the wake rolled in through the haze. The visibility couldn't have been 30 ft and these guys are calmly blasting into the abyss. Either they are Val Victorians of the Helen Keller School of Piloting or their brains are smaller than that of the game they seek.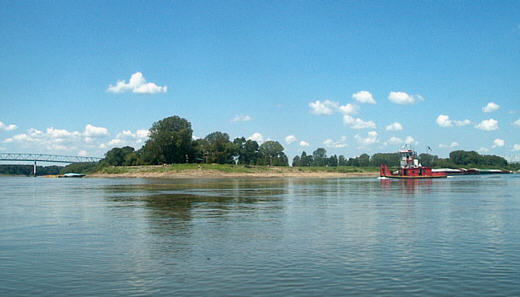 After reciting a few words omitted from the dictionary for obvious reasons, I also begin to question the contents and volume of my cranial cavity. But at this point there is not much I can do, as the narrow channel offers nothing in the way shelter. I reduce my speed a little and plod on. After an hour and a half of scraping the shoreline and squinting into the mist, the fog begins to lift enough to allow me to plane.
Lock 52 on the Ohio is still locking and it delays my return about an hour as I make the 6' drop to the lower level. Lock 53's wicket dam is still down so I again pass unimpeded.
The rest of the trip is uneventful with calm winds that make the wide Mississippi almost mirror like. It is a slower climb uphill as the 3 mph current is working against me and the GPS hangs about 21 or 22 mph.
At almost 6:00 pm on Saturday evening I approach the familiar waters at mouth of the Kaskaskia River. As I called for the lock, I notice an older trawler attempting to use an odd anchoring method on a sand bar. As I am watching and wondering how it is going to work, I manage to smack a length of 2x4 I had not noticed floating in my path. I am sure it must have nailed my aluminum prop but when I stop and trim up the Honda I am pleasantly surprised it is undamaged. Seems the river just want to give me one last lesson on whom really was in charge.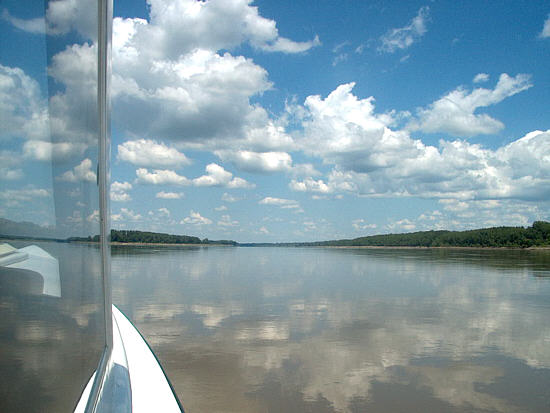 Lockage is quick and 18 miles more has me idling up to the dock finishing but another water borne adventure. In the past four days I had seen a lot of water. The GPS showed a total trip of 805 miles and the hour meter had added 43 to its read-out. My wife ask why I didn't ease off a little and stay another day, after all it was the weekend. And you know I'm not sure. There is the old adage that "getting there is half the fun" but for me it seems to be 95% of the fun. As much as I enjoy wondering around river towns like Nashville and Chattanooga, it seems I am always just abiding time until I can get back on the water.
About two weeks after this trip I drove about an hour to tour the Corps of Engineers' towboat the "Mississippi". It is the largest tow ever built in the United States with a 58' beam and 241' of length. There I am fifty-two feet above the water standing in the pilot house of this huge impressive vessel. There are levers, controls, switches and computer monitors abound. But I realize rather than taking it all in I am gazing out over the river - and wishing I was out there in Therapy. Maybe I do need professional help. Whether this is an addiction, disease or mental illness I am not sure, but recovery certainly doesn't seem part of the prognosis. And then I am not sure I would want it any other way.