Page 3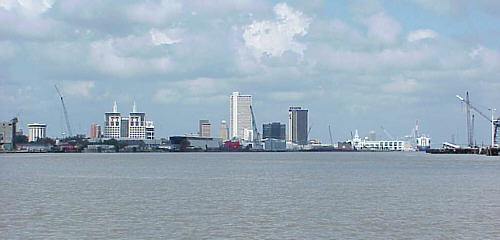 As we approached Mobile Bay the lazy wandering river became a seaport with huge ships unloading their cargo containers while other sat high in dry-dock. Near the mouth of the river we slowed to take a look at our situation as for me it was a little unusual.
If you have read any of my other river travel stories you know I am big on charts and maps. I like to know where I am at all times. But since this trip came together a little quicker than normal I did not have time to order the NOAA charts for Mobile Bay and the rest of the Intracoastal Waterway we were planning to travel. This wasn't a huge concern as the mapping GPS would prevent me from getting completely lost and I understood that the ICW was well marked. But without the charts I made a couple of assumptions that were proving to be wrong. The main one was that I reasoned that right near the mouth of the river there would be marinas. Wrong! This is a highly commercial area for ocean going vessels not little toys like Therapy. Next I assumed that the channel marker buoys in the bay would display "mile measurements" like the markers on the river. Wrong again.
Now none of this would really be a big problem without the one other factor – it was late. It was right at sunset and I knew there was only about twenty more minutes of twilght. After that we would be running in an unfamiliar bay with huge ships in the dark. Not my idea of fun…..
Quimby's listed several marinas in the area but now all we had to do was find one and do it quick. My friend had also brought along a copy of the "Tenn-Tom Nitty-Gritty Cruising Guide" by Fred Meyers. This told us that the closest marinas were on the bay's west shore and directed us to follow the ship channel to between markers 63 and 65 where we would turn starboard on a heading of about 300 degrees to run to the Dog River.
With that bit of information I advanced the throttle looking for our first channel marker. As we passes the first couple it became painfully clear that this wasn't going to be a quick trip of a few miles. I honestly don't remember what the markers were but 63 was still a good ways off our bow. I pulled back on the throttle to once again take stock of the situation.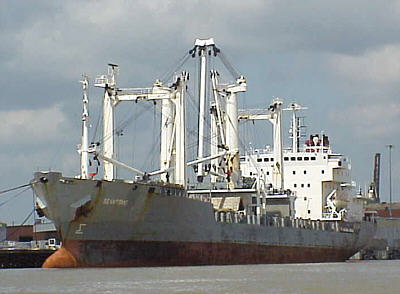 This wasn't going to work. The light was almost gone and I sure didn't want to be out here in the middle of a busy shipping lane in the dark on a moonless night. Time for a change of plan. I grabbed the GPS and moved the cursor to scanned to the west. Fortunately there was an icon showing the location of the marina and I punched it in as a waypoint. The handheld electronic marvel drew a straight-line from us to the marina. This was to be our new course - but not without some reservations. I had read that the bay can be extremely shallow in areas (much of it is only 6 to 9 feet deep). But I decided that running about 20 MPH with one eye glued to the depth sounder was our best choice. This would cut several miles off the route and with any luck get us there before it was completely black.
As I advance the throttle and turned out of the shipping channel the bottom quickly rose to 4 ft. There it held and the sounder displayed that it was very flat and hard. Naturally, running this speed in this shallow of water grinds a little on the nerves but the 4 ft level was holding solid. I pushed the throttle down a little more. Did I mention I really hate running in the dark?
It didn't take long and the lights on the Highway 163 Bridge crossing the Dog River came in to view through the haze. As we made our way there dodging a few crab pots was the only distraction. We eased under the bridge into the no wake and as Therapy settled off plane so did my adrenaline level. We passed nearby two gentlemen in a small fishing boat and ask if one of the three marinas in the immediate area had a restaurant (a subject never far our of my mind)? They directed us to the two story building on the port which was the Dog Rivera Marina.
As we eased up to the dock there were two people waiting to take a line and ask a few questions about Therapy. This did surprise me because I expected that in this area boats like it would be more common place. I guess I was wrong. As we spoke another boater walked up with more questions. As we talked I found out he was just visiting the area and assisting his brother in taking new ownership of a beautiful 50 yacht. He was from the west coast where he owned a Nimble Nomad powered with a Honda 50. A little more in to our conversation revealed that he actually grew up in Benton, IL which is cose to home and in fact he and my friend had mutual friends there. Again, it is a small world.
We finally made it to the restaurant and enjoyed a great meal of fresh seafood – something that is hard to find in So. Illinois! Afterwards we spent another hour or so chatting with other boaters tied off at the marina for the night. About 10 PM we decided to take a shower and hit the rack. We wanted to be off at daybreak hoping the wind would still be low and Mobile Bay reasonably calm.
Although it was October the night was fairly warm. I had take care to moor with the bow to the wind and it now paid off with the open hatch dragging just enough breeze into the berth. We both rested well.
By first light we were pulling in lines and shoving off the dock. I had been grateful for the breeze that had keep us comfortable during the night but was now wishing it would lay low. We passed back under the bridge and brought Therapy on plane. In our conversations last night a couple of the locals stated that we could make a straight run for the mouth of the Intracoastal on the lower east shore line. They said that the water was somewhat shallow but would be no problem for a craft our size – once we got past the "island".
I wasn't sure what island they were talking about. Remember, we didn't have a chart. But when looking at the GPS I didn't remember seeing any island in this part of the bay. Oh, well – I guess we will figure it out. I marked Oyster Bay on the east shore of Mobile Bay as a waypoint and the GPS responded with the proper heading.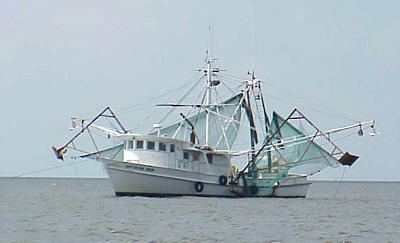 I must admit to being somewhat in awe. This is the largest body of water I have had Therapy on and it was quite an experience. A light morning haze was still lingering and most of the time there was no "land" reference off the bow – just water. Something new for me. A few miles out a land mass started to come into view. I knew it wasn't the other side of the bay which was still miles away. As we approached I realized that it was the island that had be mentioned. Looking at my mapping GPS showed me nothing but water. Yes, it is a very useful tool but not always completely trustworthy! Next time I'll get the charts.
We diverted around the island and got back on heading. The wind had picked up a little and the two-foot waves were quartering off the port side of the bow. I used the tabs to force the bow down and by slowing to about 16 MPH yielded an acceptable ride. I enjoyed watching various shrimp boats working - another first for me.
As we made our way across I decided to check the weather for information about the approaching storm. What I heard I didn't like. It was approaching and indeed was now hurricane Lilly. At the moment the winds were about 10 mph but they were predicting by late afternoon they would be 25 to 30 and the bay would have six foot breaking waves. We continued on and listened to the forecast.
This by it's self wasn't all that bad. Our idea was to make it to Destin where my friend's wife had arranged to have Therapy lifted out and set on the dry. I was confident that we could make it there before the blow hit. But what was a problem for me was that they were predicting the high winds for the next four days and I had to be back in 6 days. This left only two days for the return trip IF the forecast was right. That's cutting it close and if the wind didn't decrease on shedule I had a real problem. I mulled this over in my mind as we continued east.
As we approached the Highway 292 bridge near Gulf Beach Heights I realized we were now in Florida. Destin was only about 55 miles away, which at most would probably 3 to 4 hours depending on the amount of no-wake zones. But still I had a return deadline to meet. We discussed our options and finally it was decided that we would call my friends wife and see if she could make the two-hour drive to pick him up. She said it was no problem.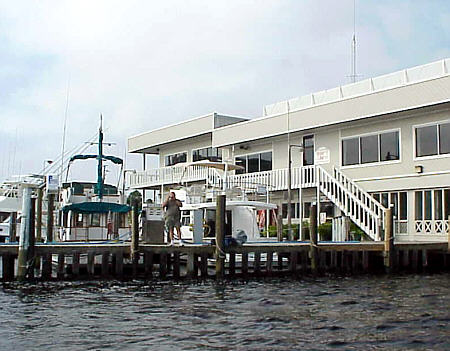 But I was disappointed. I really wanted to make Destin and spend a few days while they showed me around. Plus I hated the idea of dumping him off at the "Oyster Bar" to wait for his wife. But we both came to the conclusion that it was the only safe option. If I tried to wait it out I may well been tempted to leave in marginal weather to make it home in time (flying small airplanes taught me that pushing marginal weather is the quickest way to end up dead and I had a friend prove it). But if I departed now I still had time to make the return run across Mobile Bay and up the river before the wind came in.
So that is what we did. We said our good-bys and I snapped a picture of him standing on the dock as he snapped one of me pulling away. Not what I had planned but the bottom side is still down and the motor is still running so what the heck.
It took a little over an hour to make the 20 mile run back to Mobile Bay (no-wake areas). I had decided adjust my course to stay a little closer to the east shore which would be a little more scenic and provide quicker cover if needed. The water was shallow averaging about 6 ft but very consistent. I was pleasantly surprised that the wind was dying. Midway across the bay the water was like glass and I pushed the throttle down a little more to hit my normal 24 to 25 mph cruise.