Page 3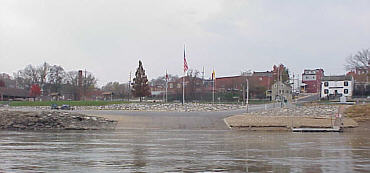 I continue my westward journey and at mile marker 68 come to Washington, MO. Unlike many so-called river towns Washington is situated right on the riverbank. There is an excellent boat ramp and parking lot and behind that are well kept century old buildings housing various businesses. There is a small boat dock at the ramp but a sign is posted offering only 15 minute mooring for loading and unloading. By now it was around noon and I have been watching my fuel fairly close. I would really like to find someone that might have information about gas availability farther upstream.
There is a narrow channel formed by a small barrier island/dike with several docks on the shore. I idle down it a ways to take a look and perhaps find another boater. With no luck I turn around and head back but as I do notice a car moving very slowly on the street parallel to the river. It isn't far away and I can tell the driver is interested and taking a good look at Therapy. As I continue on he slowly shadows my movement. By now I am sure this is a hardcore boater. Only people like us show this much curiosity in a transient watercraft. I swing the bow towards the dock and sure enough he pulls up in the parking lot and walks down.
Pat Bowen introduces himself and it only takes a minute to tell he suffers the same addiction to boating. We spend so time talking about Therapy (the design is so foreign to the Midwest it always seems to attract attention.) and our boating experiences. I am delighted when he tells me he has traveled the entire length of the un-dammed Missouri River from Yankton, SD to the Mississippi. He explained that it was done in sections over a three year period mostly in a 16' aluminum jonboat with a 40 hp outboard. I envied him as this is on my list of "boating things to do." In fact, my trip this weekend is the first step in completing the same journey.
I asked him about fuel availability upstream and he told me it was questionable. There is small floating marina 14 miles ahead at New Haven but it may be closed for the season. He mentioned that the owner was quite and interesting character and had even received some notoriety by being mentioned in William Least Heat-Moon's book River-Horse.
I realize that I don't think I have mentioned this book before but indeed I should have. It was the driving force and my spiritual guide as I built Therapy. The manuscript documents Heat-Moon's 1995 transcontinental boat trip across the center of the United States using rivers, lakes and canals. It started on the east coast at New York Harbor and ended at the Pacific near Astoria, Oregon. He covered 5,288 miles across MidAmerican in a 22' C-Dory. A few portages were necessary but the distance was kept to about 75 miles total. If you like boating, particularly river boating this book is a must read.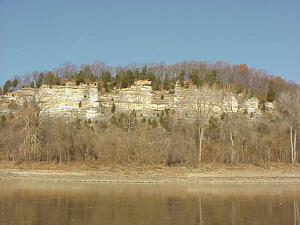 At this point I had fairly well decided that Jefferson City was beyond my grasp. Not only was fuel going to be a problem but also I still had the situation back at the ramp to deal with. I decided that coming in late Sunday evening would be a mistake.
The alternative was to make my way to Hermann at the 98 mile marker. Pat offered to take me in his car up about 7 or 8 blocks to a gas station where I could fill my portable tank. Although the calculator estimated I should have plenty of fuel on board I decided to take him up on the offer. The old adage "Better safe than sorry" is quite valid when concerning river travel and I have previously mentioned my aversion to running out of fuel.
With the full portable onboard I thank Pat for his hospitality and ease away from the dock. One thing I can seem to count on with these trips is finding fellow boaters that are always willing to help. Thanks again Pat.
I once more point the bow upstream and ease on the throttle. I make my way towards New Haven staying ever so aware of the dikes while following along with the chart.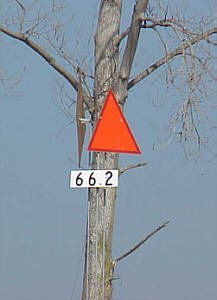 The 14 miles pass quickly and as I approach New Haven and see the small building atop the floating barge tied off to the shore. Two fuel tanks are situated on the backside and a sign announces that gas is available but as I approach I find no activity. Indeed it appears it is closed. No big deal since Hermann is now my destination. I continue on.
A little farther upstream I notice an unusual disturbance in the water in the middle of the channel. I am not sure what it is but obviously by the serious ripples on the surface there is something there. I steer clear and as I pass by I catch a quick glimpse of a ring about 3" in diameter occasionally breaking the surface. I know what it is and the thought sends shivers down my back. It is an almost totally submerged channel marker!
On the river there are a lot of things that a boater can hit. On this trip the rock dikes come first to mind but still they are charted and fairly visible. There are always floating debris to watch for and even more stressful logs that are partly water logged and float hidden just below the surface. But these are wood and free to "give" as they are hit. They can cause damage but usually thump hard and cause only harm to your nerves.
But channel markers are large steel tanks usually a foot or more in diameter and 5' tall. They are firmly anchored to a huge chunk of concrete to hold their position against the current. They are designed to withstand the occasional hit by a barge. I dread to think what would happen if Therapy tangled with one of these but it is safe to say that the buoy wouldn't be breached. One the other hand it again has me thinking about how thin 3/8" plywood really is! I punch the GPS to create a waypoint and mark the location. On the return trip tomorrow I want to know exactly where this "mine" is located.
I approach Hermann and find it to be another old German town built right on the river bank separated only by the Union Pacific Railroad tracks. There is another good ramp here but not quite as nice as Washington. I note a small dock on the east side but it is mostly sitting on silt with only about 3' projecting into the water. I idle around to the west side and find a small area of what appears might be a sand/mud combination (no rocks) and decide to nose Therapy up on to the shore for a look. I have plenty of water at the transom but when I walk around to the bow I find the landing is mostly mud and will not support my weight without sinking to my shoe tops.