During this bicentennial year all along the Missouri River great pride is taken in the Lewis and Clark Expedition as plaques and namesakes adorn every town. All seem to be trying to grasp any connection, no matter how minuscule or distant, and promote it as a mainstay of their heritage.
Not to say that some of these associations aren't accurate but the urge to embellish them is for some reason hard to decline. I, myself, may have fallen prey to this enigma. As I traveled the Missouri I found myself beginning to see the river through the Expedition's eyes. In fact, I was thrilled when I decovered one of the few remaining recognizable Lewis and Clark campsites along the Missouri River. It is only because of its isolated location that this authentic site has managed to remain in nearly pristine condition.
At great expense, I was able to obtain the necessary permits to photograph the site and offer the first time veiwing of these images to the general public.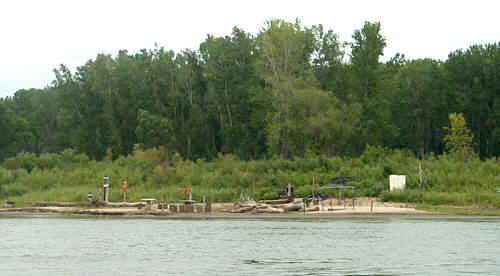 Here, as I approach from the water, is the first view of the campsite.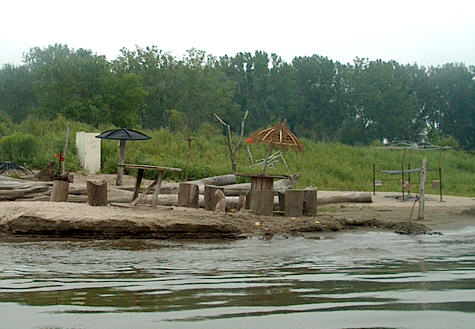 In this closer view it is evident want an inventive bunch were this Lewis and Clark team. Note how they used whatever local devices they were able to procure. Wooden cable reels became tables – discarded satellite dishes were transformed to offer shade and relief from the blistering Missouri sun. Yes, that "Can Do" American spirit was obviously very much alive in these early explorers.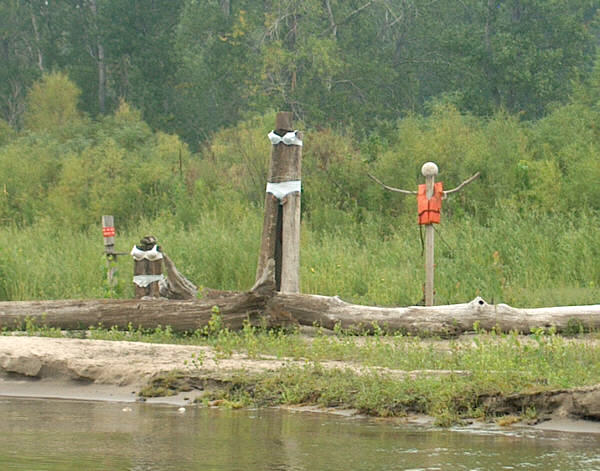 But the path to glory was fraught with danger. Not only did the explorers have to avoid the rivers hazards but also Native Americans often inhabited the nearby areas and tended to act like they owned the place. Even when the generous white intruders offered them pretty strings of colored beads in exchange for just a measly few thousand acres they tended to be suspect. Sometimes these negotiations became violent.
As result, the explorers constructed these mannequins showing the horrible torture devices that any captured hostiles would be forced to wear. Just the sight of these was effective in persuading any unfriendlies to look elsewhere for a fight!