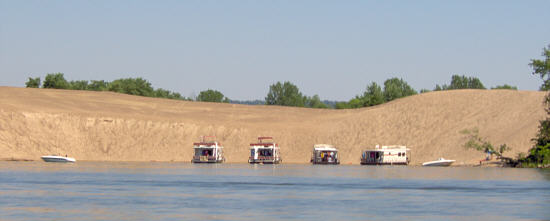 In about 20 minutes I am through the lock and again on my way. The next lock is 27 miles away. Heading upstream with a full load of fuel and gear I am making about 21 MPH and the GPS projects my estimate time in route at an hour a 16 minutes. Along the way I pass by several marinas and through downtown Dubuque, IA. One of the nice features of this trip is the abundance of marinas. Fuel is never far away and that simplifies things. Another trait is that many of the towns have courtesy docks that offer access to food and provisions. It is nice to see communities recognizing the potential and actually encouraging boaters to stop, visit and spend a few dollars.
The wait at Lock 11 is minimal with pleasure craft locking both ways. As the morning fades I have noticed an increase in recreational boats. But again it is Saturday so I am not surprised. Lock 10 is 32 miles away and it seems that this will be the pattern – about an hour and a half between locks. But the water is smooth and the Honda just hums along as I watch the shorelines pass by.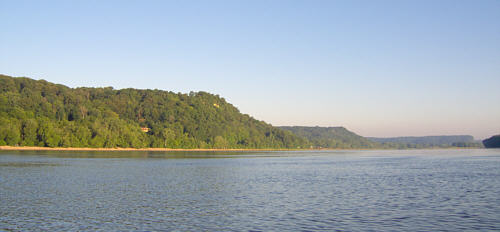 The Mississippi in this area is much different than in the St Louis, MO that is close to home. Around St Louis it is more or less a big ditch with riprap covered shores. The banks are mostly low and lined with cottonwood trees. Not much to look at (the Alton Pool behind Lock 26 is an exception). But here the river is much more sprawling. Sometimes it is open and quite wide and other times still wide but filled with tree covered islands that allow the reasonably clear water (for Midwest rivers) to meander at it's leisurely pace. The main channel is normally extremely well marked which is needed because it tends to snake through the wide body of water. Leaving the buoyed path often rewards you with a sudden dose of skinny water and the thoughts of peril – i.e. my opening experience, but more on that later. On the plus side, these shallow waters have created oodles of sand beaches.

Once through Lock 10 the vista starts to change. What before were sporadic bluffs are now considerably more frequent and noticeably higher. Also, the pleasure boat traffic has increased dramatically. Passing through miles of rural areas I am amazed that there are always numerous boats in sight. Nearing any type of community and the numbers double. The Prairie Du Chien area (MM 634) it was extremely hectic with two-way traffic everywhere.
Houseboats are very popular and they seemed to be beached all over. Many display signage as vacation rentals. People are in the 83-degree water swimming to try to defeat the hot afternoon sun. I also note a far higher percentage of aluminum runabouts with outboards than in other areas I have traveled. They are being used for fishing as well as family recreation - skiing and tubing. When you think about it they make a lot of sense in this environment as constant beaching on sand and gravel can be really tough on gel coat.

Lock 10, Lock 9 and Lock 8 is each 32 miles apart. I make my way between and through each will little delay other than waiting on other pleasure craft running the locks. Lock 7 is 23 miles up from Lock 8 but in-between is La Crosse, WI. At La Crosse (MM 698) there are numerous marinas and on the water boat dealers. There was moderate boat activity but it was getting late in the day and starting to calm. I was planning to use the Municipal Dock to access the downtown restaurants but found it was right on the open channel and there was not a "no wake" area.
This I will never understand. The most serious damage Therapy has sustained in 22,000 miles of travel has been at tied up at docks that are in wake areas. Because of this, even though my stomach is grumbling, I pass by. Also at La Crosse is the confluence of the Black River I decide to idle up to a marina and top off my tanks before continuing on the four more miles to Lock 7. Quimby's offers that there is a place to eat with a private dock just downstream of lock. If I don't get caught at Lock 7 I should be able to make it and have a meal before dark.

Again things went well as I passed through both locks with about 10 recreational boats and minimum delay. In fact, I had come to realize that so common were radio calls to the locks from pleasure craft, all that was necessary was to announce – "Lock XX, from a northbound pleasure craft," and the lockmaster would come back with the current situation and time to the next lockage.