Page 6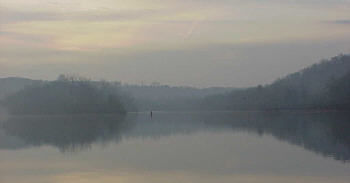 The next morning I re-run the lower Clinch in light fog and find myself at the lock about 8:30 am. I call on the radio and get no answer. I wait awhile and try again - nothing. I idle up and pull the lockage chain that blows a horn signaling the lockmaster - no reply. After 20 minutes messing around I decide to get on the phone and call Fort Loudon Lock to see what is going on. I get the lockmaster and he tells me that there is no one there today. What? I say I was told that it was operated Monday through Friday (it was Friday) and he said it was BUT you have to call for an appointment. I tried to explain I DID CALL but was told an appointment was not necessary. I also mentioned I had talked to the second shift lockmaster at his lock just last night and he said it would be in operation. He replied, "Yea, but you needed to make an appointment"……. He continued that since there were no scheduled lockages today the Melton Hill lockmaster took the day off. Obviously, the Clinch River is not going to happen for me and I start the hour run back to the Tennessee.
Making my way towards Watts Bar Lock the weather starts to sour a little. The first two days had been near perfect but today's overcast sky was now yielding light showers off and on. In Therapy this is no big deal as I stay dry and warm but honestly I could do without it.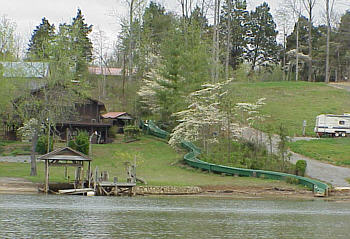 This might be a good time to mention a few things about river navigation. Many rivers are relatively narrow and finding you way is simple - you come from one way and go the other. If the river sees much commercial traffic there are usually channel markers, both red and green nun buoys to mark the safest path. But sometimes on larger rivers with dams the distinction between rivers and large lakes become blurred. If the water is deep there is no need for channel markers and if not paying close attention to the chart loosing your way is a possibility.
To remedy this I normally plot my expected route using a mapping program on my computer and upload the "track" to my GPS. This serves as an electronic guide to quickly point the way if needed. But in my haste putting this trip together I didn't take time to it. Although not a serious error I did find that several times in this trip I had to drop off plane and decide which way the river was actually going. This was a minor aggravation that could have been prevented.
It was easier on the way back as I had set the GPS to create a track as I had run up the river and now I could just follow it back (sort of electronic bread crumbs!) The only problem with using this is I once again missed one of the short cuts plus repeated two erroneous turns I had made Wednesday. Next time I'll pre-load the track.
Along the way I pass the tow I had seen leaving Knoxville. The lockmaster At Fort Loudon had warned me it was ahead and suggested I try to beat him to Watts Bar Lock. He explained that the upper Tennessee River lock chambers are so small they allow only ONE barge at a time to lock through. This was a nine barge tow so the process of raising and lowering the water and moving the barges in and out would have to be repeated nine times to accommodate passage. This would take about 10 hours!!!!! He said usually they would lock two barges through and then if there were pleasure craft waiting they would run them through. Still the wait could be a couple of hours. The tow was only about 5 miles from the lock when I passed him so I felt pretty lucky today!

About 30 miles on the downstream side of Watts Bar Dam is the mouth of the Hiwassee River. In the first 10 miles of it is fairly wide for a small river but then it narrows considerably. From this point on to the end of navigation at the 20 mm it reminds me of my home river - the Kaskaskia only a bit more scenic. I am surprised when I reach the end at Charleston, Tn. by the amount of industry on its shoreline. There is a chemical plant, a paper mill, a salt storage facility and a couple of other large commercial operations. Nowhere along the way had this serene little river revealed its working class status.
At my turn around point I drop off plane and take a short break. This marks the end of my "new water" exploration, as the rest of my trip will consist of back tracking my route. I run the numbers to see where I stand on fuel. Can I make it back to the trailer without another fuel stop? It looks like it will be very close so I decide to give it a try. If it gets too low there are various marinas along the way so I can always stop then.
The remainder of the return trip is uneventful but I still do have rain off and on. I pass another tow heading up stream so this makes only two I have seen the entire trip. I pull up the dock at downtown Chattanooga at about 2:30 pm. I had been watching my fuel flow meter and it shows I have less than a gallon in the tank. That's cutting it a little close but that is the benefit of having accurate instruments and knowing your craft. The GPS shows I have traveled 570 in the past three days.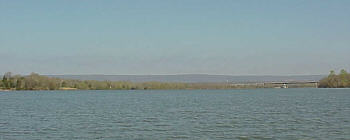 The end of this trip is somewhat of a milestone for me. When I built the Cabin Skiff one of my major goals was to run the Tennessee from one end to the other and now I have done just that. It has been a great experience and I would do it again in a heartbeat. My wife thinks I either have a congenital defect that draws me to rivers or I am in need of serious professional help. Either or both may be correct. All I know is I am most at peace with myself when out here feeling the water under the hull and watching the shoreline wander by. Fortunately there are still many more miles of new rivers to explore and the season is just beginning.