Page 4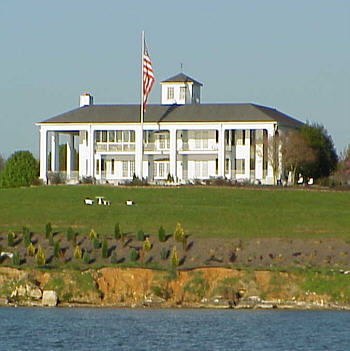 From here Knoxville is only 45 miles away but the sun is getting low on the horizon. I check my GPS and it tells me sunset is about 8:07 PM and there is no moon tonight. The calculator tells me I should reach downtown Knoxville at 8:30. I say it again, I really hate running in the dark but there are clear skies so I should have 15 or 20 minutes of twilight. Hopefully that's enough.
The wind is laying low by now and the water becomes motionless in response. It doesn't take long before I start noticing the homes along the shoreline. They are magnificent! Each time I see one that I think is the most impressive just a couple of tenths of a mile more yields another that surpass it. And I am not talking about just a few homes - there are dozen after dozen of them. Until now Lake of the Ozarks has had the most impressive homes I have ever seen on a shoreline but it is no competition for the dwellings on Ft. Loudon Lake.
By now the sun has set and with the twilight dimming it is becoming difficult to spot any small debris that may be floating downstream. Fortunately, the lights of downtown are coming in to view. As I approach there is a nine barge tow coming my way. The river is a little narrow here but still there is room to pass with no problem. As I cross the small wake it is producing I realize that this is the first commercial traffic I have seen in the entire 253 miles I have covered today.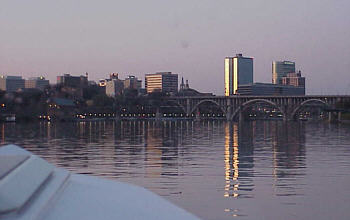 At mile marker 647 I find myself in downtown Knoxville. It doesn't have the impressive skyline like Nashville or the charm of Chattanooga but it is a welcome sight nonetheless. On my port, setting right on the water, I find the target of tonight's mission - Calhoun's Restaurant. Their courtesy dock has two other boats moored but they look like permanent residents not transient like me. I secure Therapy and notice a sign that states boaters should ask management for permission to stay the night and I make a mental note to do so. I walk up the flight of stairs and then go around to the front of the building and enter the restaurant. Seating is immediate and the meal quite satisfactory. The photo below is the restaurant.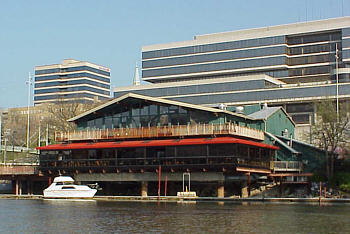 After the meal I realize I am fairly well beat. Normally I would go for a walk and check out the downtown area but last night was a short and the day has been long. I decide to return to Therapy and just relax. Normally I just read a book I but this trip I decided to go high tech. I had borrowed my son's laptop and a few DVD from his collection so I settled in to watch "Patriot" (Mel Gibson gets very, very mad!). Who says yachts have to be big! Here I sit onboard, in the salon, watching the entertainment center, sipping bottled water. Well, maybe it is a bit of an exaggeration but you get the idea. An hour and I half later Mel saves the country and I decide its time to call it a night.
In the morning I am awaken by the sound of an outboard and Therapy rocking from small wake. I look out the portlight and see another sculling team working the river. I check my watch and realize I have slept late, as it is 8:30. Calhoun's is not open for breakfast so I decide to get underway. At this point I am not yet at the end of the Tennessee River. That is about five miles upstream at the confluence of the Holston and French Broad Rivers. I head on east and pass the Volunteer Landing Marina.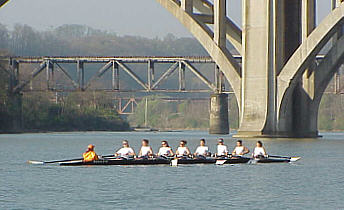 A few minutes later I am at the headwater and drop of plane to enjoy in the moment. I am now 652 miles from where the Tennessee ends as it flows in to the Ohio River and have seen this river from one end to the other. I decide to try to idle up the Holston but it becomes shallow fairly quickly. I turn around and try the French Broad (I assume the name refers to its width not its gender, but it isn't very wide). I have adequate water but take it slow anyway. I notice a distance ahead is a good size dock. As I approach I realize that it is the Sea Ray boat factory. I notice beside a nice docking facility (water and power available) the offices sitting right on the riverbank have a beautiful view of a rock cliff just across the water. I continued up stream about a half-mile but it starts getting shallow. Far enough - it's time to head back as there are still other rivers I plan to explore today.