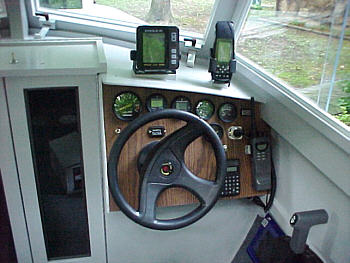 On the instrument panel I decided to go for broke and add a Horizon digital Speed/Temp (water temp) and a Horizon Fuel Flow meter. The speedometer not only shows the speed but keeps a trip and total mileage log. The fuel flow meter shows your current GPH and keeps track of amount of fuel used per trip and total remaining fuel. It also has low fuel a warning buzzer and you can choose where it activates.
Other instruments include tach, fuel, voltmeter, trim & hourmeter. Also there is horn button, small digital clock, 12v outlet (for radio or small fan) and switch for instrument lights.
The handheld marine radio is mounted on the panel (hangs by it's belt clip) and an inexpensive calculator for figuring MPG, range estimates, etc.
On top the panel sits the Eagle Depth Finder and handheld GPS.