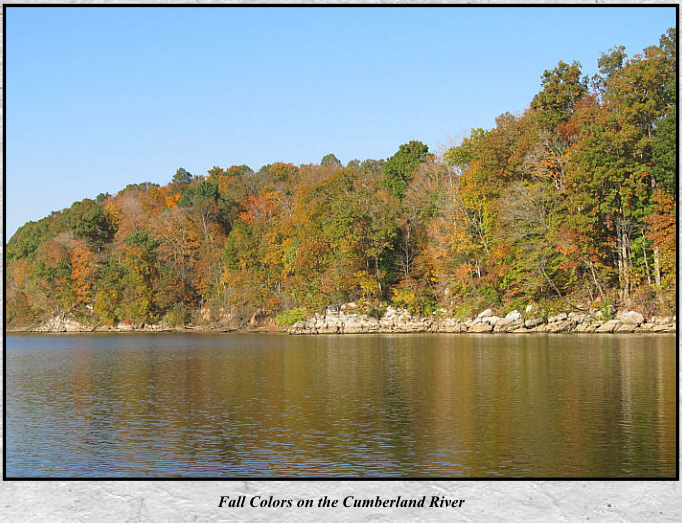 In mid October my 2012 boating season was approaching an end. Certainly there would be a few more nice days but the odds of several consecutive days of comfortable cruising weather were growing short. So when I noted a favorable forecast I could not help being enticed to load Seaquinn for one final long voyage. All summer I had tried to get time to make a run on the Cumberland River to Nashville, TN however the goal seemed to allude me. But now, even though it is late in the season and the days are short, it appears I would be able to make it happen.
My available time for the trip was a somewhat tight and as a result I decided to tow farther down the river/lake than normal and launch at Lake Barkley State Park Marina. This would save about 60 miles of river which calculates to a little more than eight hours of total travel. Still the trip would be ample and cover about 260 miles as well as log a little over 40 hours of running time. My plan was to spend two days to in route, layover a day or two at Nashville and then return in another two days. This was also going to be a solo trip as my wife had already made other plans when the opportunity presented itself.
The day of departure I managed to get away from the office just after lunch so with Seaquinn secured on the hitch I made the 180-mile tow to the marina. In route it came to mind that even though I have been at this marina many times it has always been on the water and never by land. I arrived about 4pm and immediately my lack of on the ground familiarity presented a somewhat disturbing observation. From the water I had previously noted the wide concrete ramp but had never paid close attention to the layout.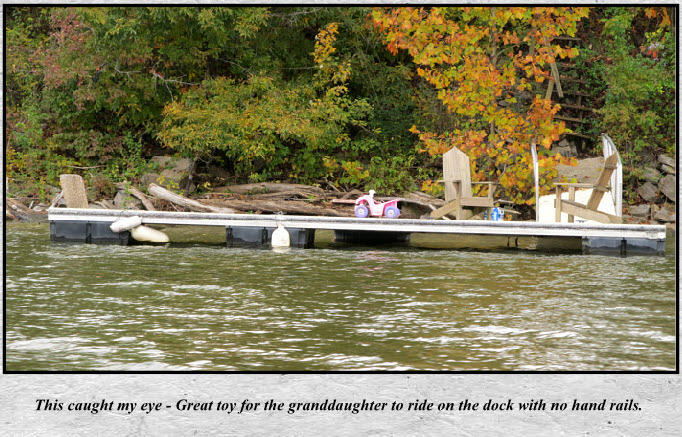 What I found was the approach to the ramp was dead level but then the ramp itself made an abrupt change to the somewhat steep grade. There was no transition area just the flat parking lot and then the sloping ramp. I was confident I could handle the incline but realized there was a good possibility my rather long trailer would high center as I backed down.
This was a real concern. If my decent was too fast there was a chance I could hang the trailer and not be able to move in either direction. My thought was as it made solid contact it would tend to lift the tongue, which would reduce weight on the hitch and produce a loss of traction on my two-wheel drive truck. But still, I quickly decided that just standing looking at the situation was not going to produce any results so I decide to ever so slowly back over the ledge and see what happened.
Another question I had concerned the warning flare that always seems to be fired high in the sky at moments like this. I didn't actually see it but know it must have been deployed. How else can it be explained whenever you have a problem loading or unloading, people seem to appear out of nowhere with no other intent than to just watch. And this time was no exception as I had a gentleman and his wife drive up, roll the windows down and sit in the car to watch the show.
I tried to ignore them and concentrate on my situation. I eased back and sure enough about midway down the bottom of the trailer started dragging on the concrete. I stopped and walked back to have a better look and not surprisingly my audience decided they would also have a better view if they too walked up beside the boat.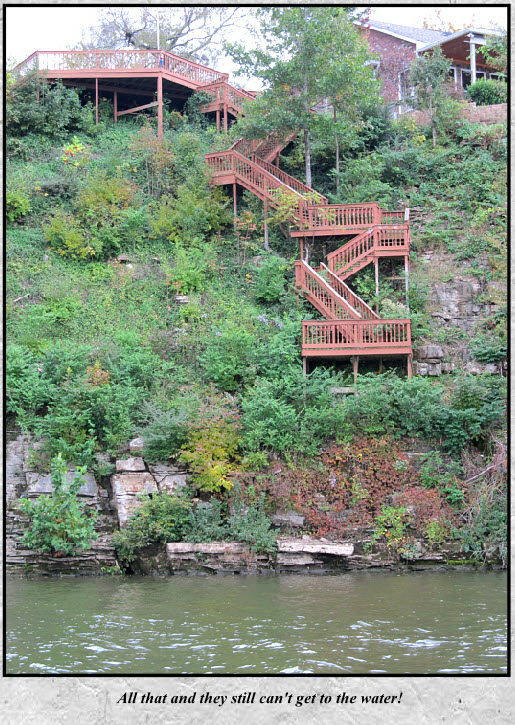 We exchanged pleasantries and then discussed the situation. Although difficult to be 100 percent sure it did appear the contact was going to be brief and not cause any problem other than a few scuffmarks on the bottom of the aluminum beams. I also reasoned when returning the elimination of 40 gallon of gas and 20 gallon of water would allow the trailer frame to set a little higher and improve the situation for retrieval.
So back in the truck I proceeded down the ramp. Fortunately I found the worst of the contact had already occurred and the rest of the launch was routine. The spectators also disappeared I assume in search of more interesting entertainment. I then made my way through the marina's no wake area for about a quarter mile to the dock at the Lodge were I enjoyed an evening meal looking out over the lake. Afterwards I moved from the dock to a nearby protected cove where I have spent many nights. As usual, on the water, I slept very well.
The next morning I was on my way a little before daylight. The plan was to cruise 72 miles to Clarksville, TN. Located there is dockage and restaurants as well as a great place to take a walk. There is even a Harbor Freight store to go browse around, so it is a win-win situation. Since I would be heading upstream my speed would probably be reduced to about 6 MPH – perhaps a little less. This calculates to roughly 12 hours travel time. This time of the year sunrise to sunset is only about 11 ½ hours but with twilight of 20 minutes on each end it should be workable.